Please don't forget in your Prayers and Duas those who are defending and protecting Sayeda Zainab's(as) Shrine in
Syria
..
#
YaZainab
The United States gave the go-ahead Friday to deploy air defense missile batteries to Turkey along with enough troops to operate them.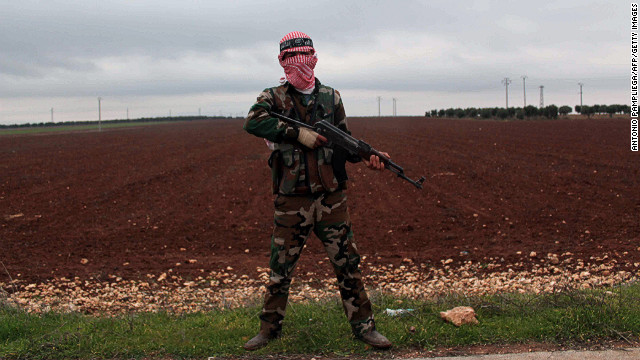 A member of the Syrian opposition's Al-Buraq Brigade stands guard on a main road in the northern Syrian town of Ain Dakna near the Turkish border on Monday, December 10. Click through to view images of the fighting from December, or
see photos of the conflict from November
.
Showdown in Syria
STORY HIGHLIGHTS
NEW: German parliament OKs deployment of German Patriot anti-aircraft missiles to Turkey
U.S. Defense Secretary Leon Panetta signs order for missiles and troops en route to Turkey
The U.S. military will send 400 personnel and two missile batteries to Turkey
Move signals U.S. support for Turkey in the face of possible threats from Syria
(CNN)
-- The United States and Germany are sending Patriot missiles and troops to the Turkish border, a warning to Syria's besieged
President Bashar al-Assad
.
The surface-to-air interceptors would be "dealing with threats that come out of Syria," said U.S. Defense Secretary Leon Panetta. Threats would include Syrian strikes inside Turkey and fighting between the government and rebels that extends into Turkey.
Errant Syrian artillery shells struck the Turkish border town of Akcakale and killed five Turkish civilians in October.
"We can't spend a lot of time worrying about whether that pisses off Syria," said Panetta after signing the order Friday. He spoke after arriving Friday at Turkey's Incirlik Air Base, a U.S. Air Force installation about 80 miles from Syria's border.
Despite the prospect of U.S. missiles on Al-Assad's doorstep and a weakening regime, U.S. intelligence officials said the Syrian leader is showing no signs of giving up.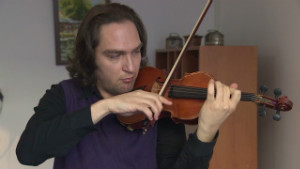 The soundtrack of life in a refugee camp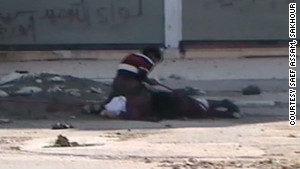 Syrian, 17, risks life to rescue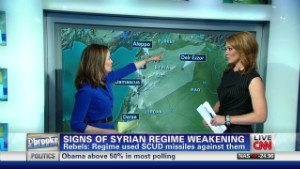 Signs of Syrian regime weakening
The United States and NATO hope to have them in place by the second week in January, and a military advance team is going in in the next several days, CNN has learned.
The moves come a week after NATO foreign ministers approved the deployment of Patriots to protect Turkey against any threats from al-Assad's regime, rapidly weakening by rebel advances.
Patriots are constructed to take out threats from warplanes and tactical ballistic missiles to unmanned aircraft by impacting with them in midair, according to Raytheon Co., which builds them. The U.S. military used to take out Scud missiles during the Iraq war.
The United States has accused Damascus of launching Scud-type artillery from the capital at rebels in the country's north. One Washington official said missiles came close to the border of Turkey, a NATO member and staunch U.S. ally.
Syria's government called the accusations "untrue rumors" Friday, according to state news agency SANA. Damascus accused Turkey and its partners of instigating rumors to make the government look bad internationally.
NATO has also said it detected what appeared to be ballistic missile launches within Syria and condemned their possible use as "utter disregard for the lives of the Syrian people."
Turkey and NATO insist the Patriot system would be used only for defense.